The college mechanism for the library management is in the form of our library committee which consists of:
| | | |
| --- | --- | --- |
| 1. | Dr. Shashi Prabha Khurana | Principal |
| 2. | Mrs. Shikha Gupta | Librarian |
| 3. | Mrs. Chhaya Vyas | Faculty Member |
| 4. | Shri Narendra Kumar | Faculty Member |
The committee is empowered to review the various library resources. The committee normally meets quarterly in a year, and in some special cases. The principal can convene its meeting with library committee which consists of faculty members and a student representative. The major responsibilities of the library committee is :
Framing and modifying the general rules and regulations for the proper functioning of the library,
Selection of books for purchase and issue orders for purchasing them to the extent of allocated budget,
Placing orders for subscribing useful magazines and periodicals,
To watch the proper maintenance of the library and to keep the library well equipped.
To make availability of the library services to the maximum and optimum use by the staff and the pupil teachers.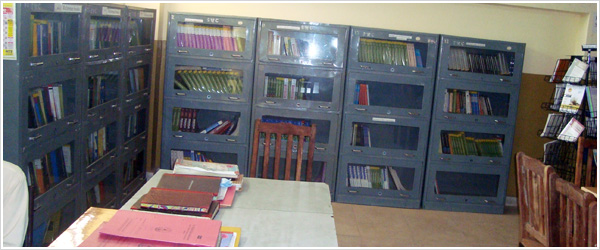 Library Details
Total Books - 7300
Reference Books - 2000
Encyclopedia - 10
Journals (Indian) - 10
Magazines - 5
News Letter- 2
Daily News Paper- 5